flip side
When I'm not here, I'm there. Sometimes 'there' is rescuing donkeys in India. Sometimes it's online:
Huffington Post:
+Pants Gone Missing at Hollywood Club
+You Can't Buy Love at the Drive-thru
+'The Magic Castle: Ex-Nerds with Birds
+'Tis the Season for Obligatory Gifting
+It's Hard Out Here for a Hippie: The Paradox of Venice Beach
The Next Family, a magazine about non-traditional families:
+A Day For All Fathers, Even Dead Ones
+Dead Dad Part II: Acceptance, Leftovers & Magic Wands
the3six5
+November Eighth
funny or die
+God Reschedules Rapture
Soon to be published in the anthology, Shame Prom
Professional site/storytelling/stand-up: laurenne.com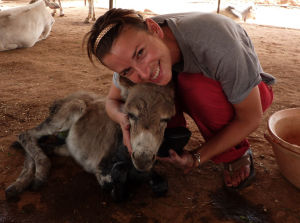 Me and Olive, the donkey of my eye in India.